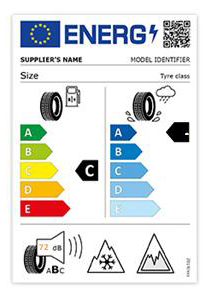 As of 01/05/2021, the European tire label has changed significantly on the basis of updated, stricter European regulations (Regulation (EU) 2020/740). This new European tire label applies to passenger car tires (C1), light truck tires (C2) and heavy truck tires (C3).
The new compulsory European tire label must be shown on the tire or at the point of sale of all C1, C2 and C3 tires produced from 1 May 2021. The label will show the tire's efficiency, environmental friendliness and safety. It also indicates the performance of tyres specifically designed for use in severe snow and ice conditions. The tire label allows for comparison of tires and aims to encourage the use of safer, more efficient and quieter tires.
However, the label only lists 5 performance criteria when there are actually 50 performance criteria for assessing the quality of a tire. For example: wear resistance (mileage), braking on dry surfaces, traction on snow, lateral grip on ice, vehicle noise, handling and aquaplaning.
THE FIVE PERFORMANCE CRITERIA TIRE LABEL INFORMATION
The tyre label provides a value (class) for the following five criteria:
FUEL EFFICIENCY

5 classes from A (most efficient) to E (least efficient). The fuel consumption of a vehicle depends on factors such as the engine type, speed, road surface, weather conditions, etc. Tire rolling resistance accounts for around 20% of fuel consumption. Less fuel consumption means lower fuel costs and less CO2 emissions.
WET GRIP

5 classes from A (the shortest braking distance) to E (the longest braking distance). The wet grip performance of a tyre can vary depending on the vehicle type, weather conditions and tread pattern, among other factors. Good grip is important for safety.
EXTERNAL ROLLING NOISE

3 classes of external rolling noise, with the measured value in dB. External rolling noise means the traffic noise caused by the tire. In addition to the noise level in decibels (dB), the pictogram also indicates the noise level A, B or C.
Note: There is no direct link between external (outside the car) and internal (inside the car) tyre noise.
SNOW GRIP

Tires marked with the snow symbol are deemed to fulfil the minimum snow grip index values as specified in UNECE Regulation No 117 and are suitable for use in severe snow conditions. The snow symbol can be found on winter tires and many all-season tires.
ICE GRIP

Tires with the ice symbol satisfies the relevant minimum ice grip index values and are suitable for use in very snowy and icy conditions.
At present, the ice symbol can only be found on labels for passenger car tyres
Tires with the ice grip pictogram are specifically designed for a road surface covered with ice and compact snow. These tires should only be used in very severe climate conditions (e.g. cold temperatures). The use of tires with grip for ice in less severe climate conditions (e.g. wet conditions or warmer temperatures) could result in sub-optimal performance, in particular in terms of wet grip, handling and wear.
The EU has a European Product Database for Energy Labelling (EPREL). The tire (label) data in the database can be consulted as of 1 May 2021. The new tire label will also contain a QR code with which the data from the product information sheet, as referred to in Annex III of Regulation (EU) 2020/740, will eventually be available to everyone.
With reference to the aforementioned European Regulation (EU) 2020/740, we emphasise that driver behaviour is the primary determinant of fuel consumption and road safety, and in particular that:
Ecologically responsible driving can significantly reduce fuel consumption
Tyre pressures should be checked regularly to optimise fuel efficiency and wet grip
The following distances should always be strictly observed
This Regulation does not apply to:
off‐road professional tires;
tyres designed to be fitted only on vehicles registered for the first time before 1 October 1990;
T‐type temporary‐use spare tires;
tires whose speed rating is less than 80 km/h;
tires whose nominal rim diameter does not exceed 254 mm or is 635 mm or more;
tires fitted with additional devices to improve traction properties, such as studded tyres;
tires designed only to be fitted on vehicles intended exclusively for racing;
second‐hand tires, unless such tires are imported from a third country.
Source: Regulation (EU) 2020/740 of the European Parliament and of the Council
No rights can be drawn from the information mentioned on this page. We hereby exclude any liability.